ONLINE – ONLINE – ONLINE
STAY HOME – STAY SAFE – KEEP LEARNING
IN ASSOCIATION WITH
MSME- TECHNOLOGY DEVELOPMENT CENTRE
PROCESS & PRODUCT DEVELOPMENT CENTRE
CEV the only charitable organisation of its kind for Engineers & Valuers Announcing Weekend Online 3rd Training Programme for Gold Appraisers In association with Technology Development Centre, MSME
ON 2ND & 3RD JANUARY 2021
Chance to become Government Certified Gold Valuer With Lifetime Membership of CEV INDIA in Gold Appraisers Category
INTRODUCTION
ONLINE GOLD APPRAISAL IS  TRAINING PROGRAMME COMPLETED IN 2 DAYS WHICH LETS  YOU KNOW ASSAYING, EVALUATION OF GOLD  ORNAMENTS AND DETERMINE THE ELECTROPLATED ITEMS OF SILVER AND OTHER METALS AND BRIEFING ABOUT THE STONES.
COURSE CONTENTS
INTRODUCTION, THEORY PORTION, BASIC METAL, KARAT GOLD AND FINE GOLD, CONVERSION KARATAGE/ FINENESS CHART, ALLOYING AND KARTAGE, GOLD COLOURS AND ITS ALLOY COMPOSITION, COLOUR ELEMENTS, SILVER, STONES AND ITS SHAPES, VALUING OF GOLD AND STONES, ELECTROPLATING, ASSAYING AND ITS TYPE, HALL MARKING, WEIGHT & BALANCES, TESTING PROCEDURES, TOUCH STONE TESTING, COMPOSITION OF TOUCH ACID, SOLDERING AND ITS TYPES, RULES AND REGULATIONS FOR APPRAISERS.
PRACTICAL ON ASSAYING AND VALUATION OF GOLD & TESTING OF ELECTROPLATED ITEMS.

TESTING OF 7 OTHER METALS LIKE SILVER, TIN, ZINC, GERMAN SILVER, BRASS, COPPER

EVALUATION
WHO SHOULD ATTEND
BANK PROFESSIONALS

EXISTING VALUERS OF OTHER ASSET CLASSES

ENGINEERS INTERESTED IN MAKING CAREER IN GOLD VALUATION

JEWELERS/GOLD BUSINESS

UNEMPLOYED/OTHER

FRESHERS OF PROFESSION
BENEFITS & FEATURES
BENEFITS

EXPOSURE TO WORLD CLASS PRACTICES FOLLOWED IN THE INDUSTRY

THIS CERTIFICATION WILL ADD VALUE TO PARTICIPANT'S CURRENT CAREER PROSPECTS

COURSE IS DESIGNED BE EXPERTS IN THE FIELD

FEATURES

TO INSTIGATE THE AUDIENCE IN GRASPING THE CONCEPT, NOT GET BUGGED BY THE GRAMMAR OF THE TOPIC AS FAR AS POSSIBLE MAKE ALL THE SESSIONS INTERACTIVE WITH THE PARTICIPANTS AND EMPLOYING COLLABORATIVE GROUP LEARNING.
CERTIFICATE
CERTIFICATE FROM GOVERNMENT OF INDIA ORGANIZATION SHALL BE AWARDED TO ALL THE PARTICIPANTS UP ON SUCCESSFUL COMPLETION OF THE COURSE
Council of Engineers and Valuers in association with PPDC, Ministry of Micro, Small and Medium Enterprises (Government of India) going to conduct the ONLINE 3rd specialized course of GOLD APPRAISALS at JALANDHAR exclusively for its life members.
IT WILL BE ORGANISED IN WEEKEND IN ON

2ND & 3RD JANUARY-2021

ON ZOOM APP. MEETING ID & PASSWORD WILL BE PROVIDED TO EACH CANDIDATE AFTER SUCCESSFUL ENROLLMENT.
Certificate from TDC-PPDC, MSME, Government of India will be awarded after successfully completing the course.
Gold appraisal/Valuer training by MSME-TDC (PPDC), Ministry of MSME, Govt. of India, is schedule at CEV Headquarters JALANDHAR On
2ND & 3RD JANUARY-2021
(Depending upon conditions of Covid-19).
2  DAYS SESSION
FEE @ Rs.8500 K for all Existing Prime Members & their family members.
Fee include Course training,  Course Study Material,   Online Training Charges & Certification & Life time Membership in Gold Appraisers Category in Council of Engineers & Valuers. 
Fee including Lifetime Membership in Gold Appraisers Category (worth Rs-30,000/-)
In case of physical session Venue Booking Charges, Stationery Material, Chemicals & Other Necessary Items, Food Package for two days (Morning breakfast and Tea, Lunch, Evening High Tea With Cookies). Stay charges not included. However all the assistance & guidance for safe, comfortable & economical stay facilities will be provided by the local chapter.
FREE LIFE TIME MEMBERSHIP WILL BE PROVIDED IN GOLD APPRAISERS CATEGORY IN COUNCIL OF ENGINEERS & VALUERS TO ALL THE CANDIDATES. (WORTH RS. 30,000/-)
NOTE:- ONLY MEMBERS OF CEV INDIA AND THEIR CLOSE FAMILY MEMBERS ARE ALLOWED TO ATTEND THIS SESSION.
On ZERO PROFIT bases.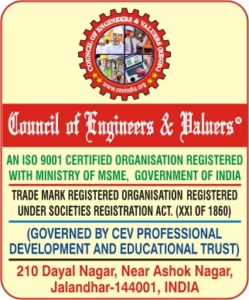 CERTIFICATES TO ALL SUCCESSFUL CANDIDATES WILL BE AWARDED DIRECTLY BY  MINISTRY OF MSME, GOVERNMENT OF INDIA.
BANK DETAILS & OTHER MODES FOR PAYMENT OF FEES 

PLEASE SEND TE SCREEN SHOT ON BELOW MENTIONED WHATS APP NUMBER AFTER PAYMENT OF FEE DONE
For more details contact:-#9041263607
Visit our official website …

www.cevindia.org
TEAM CEV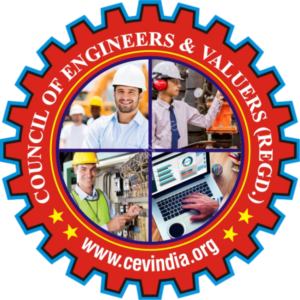 Chance to become Government Certified Gold Valuer : CEV INDIA Announcing 3rd All India Training Programme for Gold Appraisers