CEV INAUGURATED ONE MONTH ONLINE SESSION OF STAAD PRO SOFTWARE: 40 CANDIDATES JOINED THE TRAINING COURSE: CERTIFICATION OF COURSE WILL BE PROVIDED BY CMI


CEV INAUGURATED ONE MONTH ONLINE SESSION OF STAAD PRO SOFTWARE: 40 CANDIDATES JOINED THE TRAINING COURSE
FREE COPY OF SOFTWARE PROVIDED TO EVERY CANDIDATE 
JALANDHAR JUNE 1ST, 2021(TECHNO NEWS):

COUNCIL OF ENGINEERS & VALUERS the growing charitable, most popular, dynamic, organization started its most awaited batch of STAAD PRO Software training today at 5.30 PM through online mode.
Council of Engineers and valuers today initiated a new course STAAD/Pro in association with CMI, under the guidance of Dr. Rajwinder Bansal and Er. Sundeep Bansal. The first-day lecture is over and the basics of structural engineering and STAAD software were well explained by CEV INDIA faculties Er. Neha Khanna and Er. Manish Khanna.
Both are Executive Founder members of CEV are M.Tech structures qualified and pursuing Ph.D. from NIT Jalandhar with an experience of more than 10 years in the field of civil and structural engineering.
The course took a tremendous start by a well-planned class and we are seeking more and more success in the future.
This is the first initiative by CEV to provide professional software skills to the professionals and wish to continue the same in the future.
Follow CEV on Social Media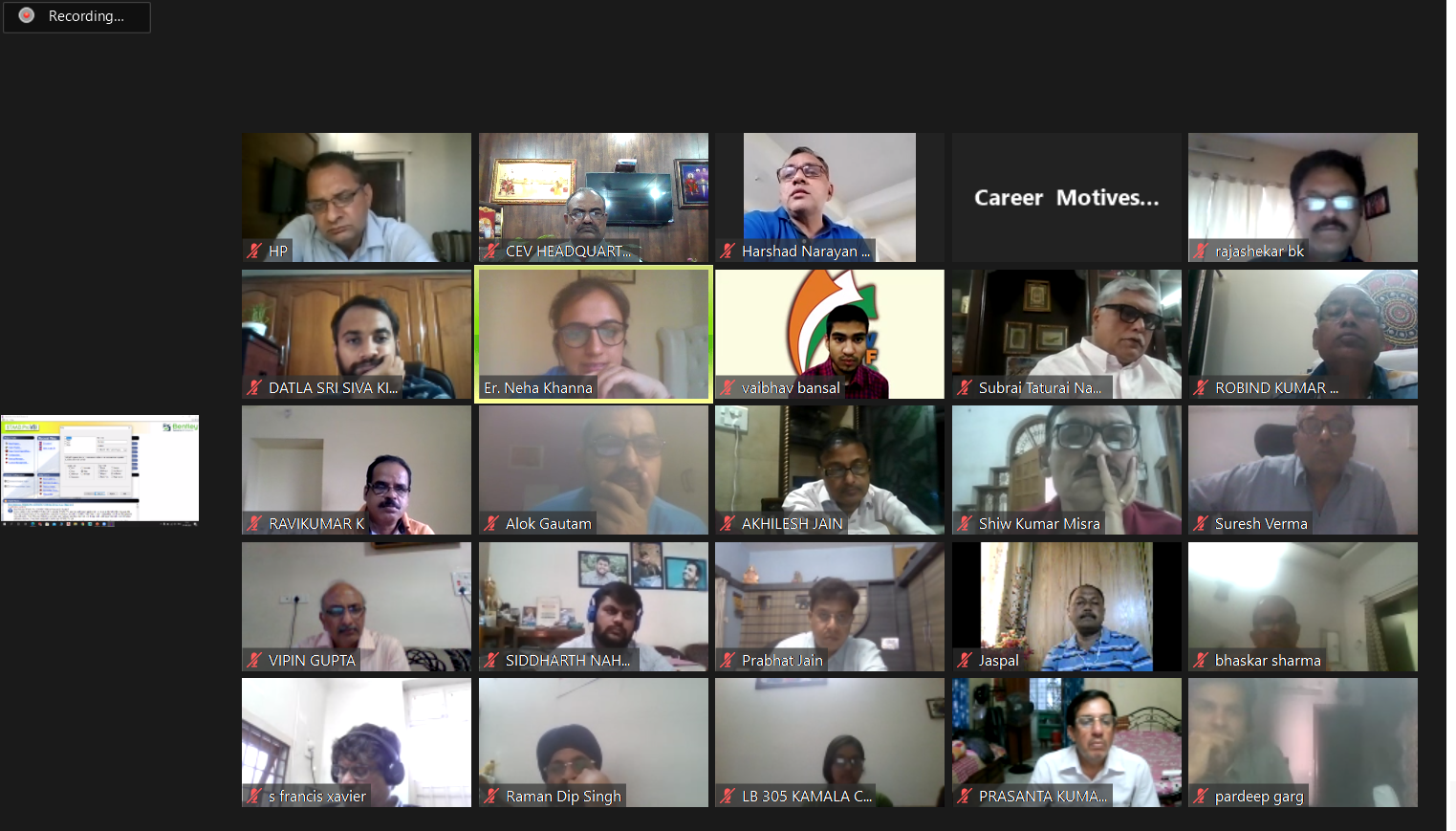 This batch is conducted in association with CMI the most popular institute for Training software in the northern part of the country. CEV Charitable Institution is an institute that provides career counseling, education, coaching classes for engineering and competitive exams, and software training.
The session was inaugurated on behalf of President Dr. Rajwinder Singh by Er. Sundeep Bansal M. Tech (Str), General Secretary of the organization.
Er. Rajesh Kumar, M. Tech (Str), Education Officer welcomed all candidates and briefed them about the various protocols to be followed during the online session.
Follow CEV on Social Media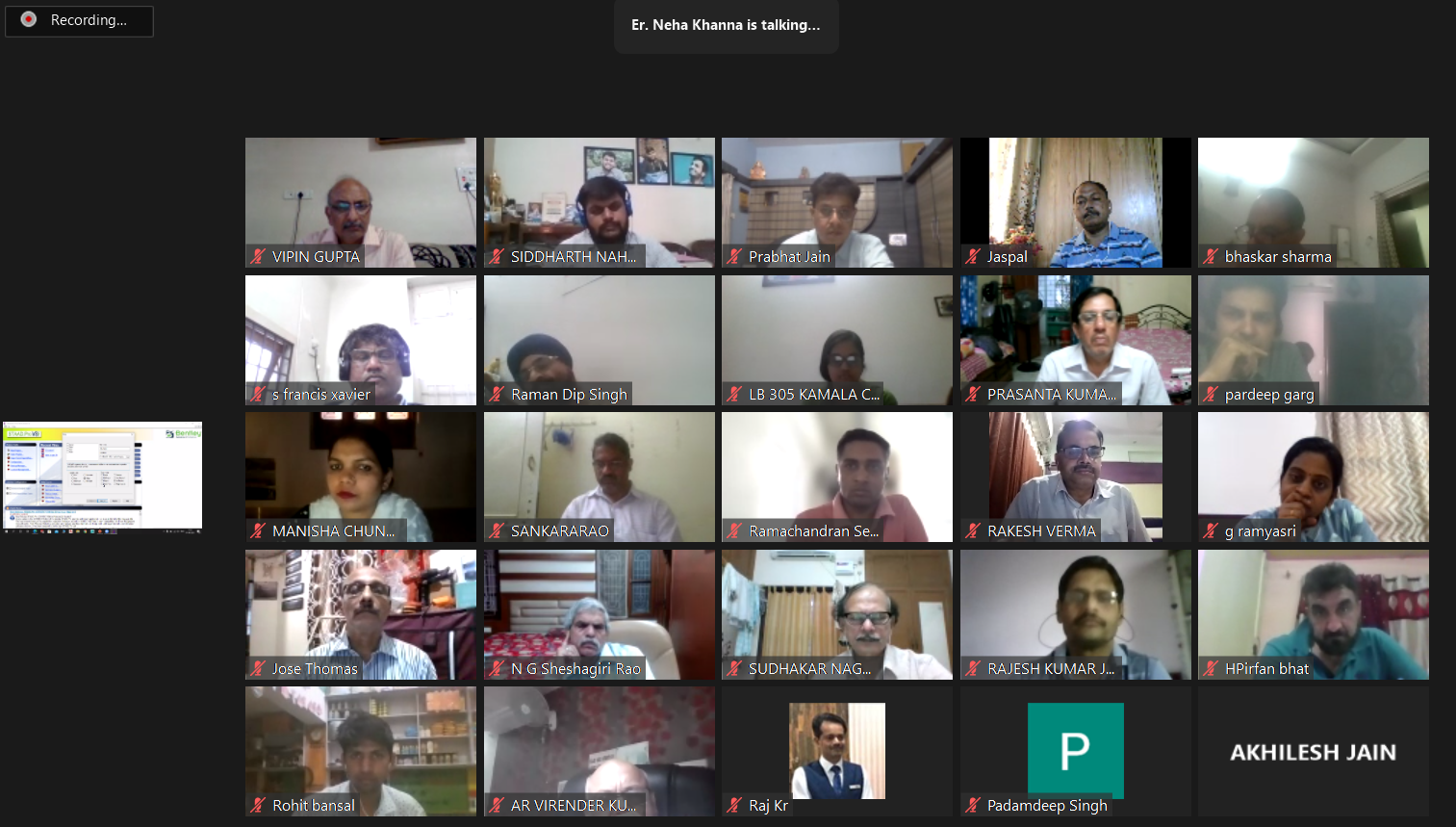 The main Faculty of CEV were Er. Manish Khanna M. Tech (Str) & Er. Neha B Khanna M. Tech (Str), Ph.D. Scholar.
Around 40 senior & prominent Civil Engineers, Architects, Professionals around the country attended this session.
Talking about the session Dr. Shefalika Faculty of CEV told that this session will continue for around 1 month in continuous classes of 1 to 1.5 hours daily. We will try to start the theoretical knowledge from the very beginning of the structural designing & analysis and slowly move towards the complex designing standards as most of the candidates are of the middle age group and they require more time to recall the memory of their college subjects left 20 or 30 years back.
Follow CEV on Social Media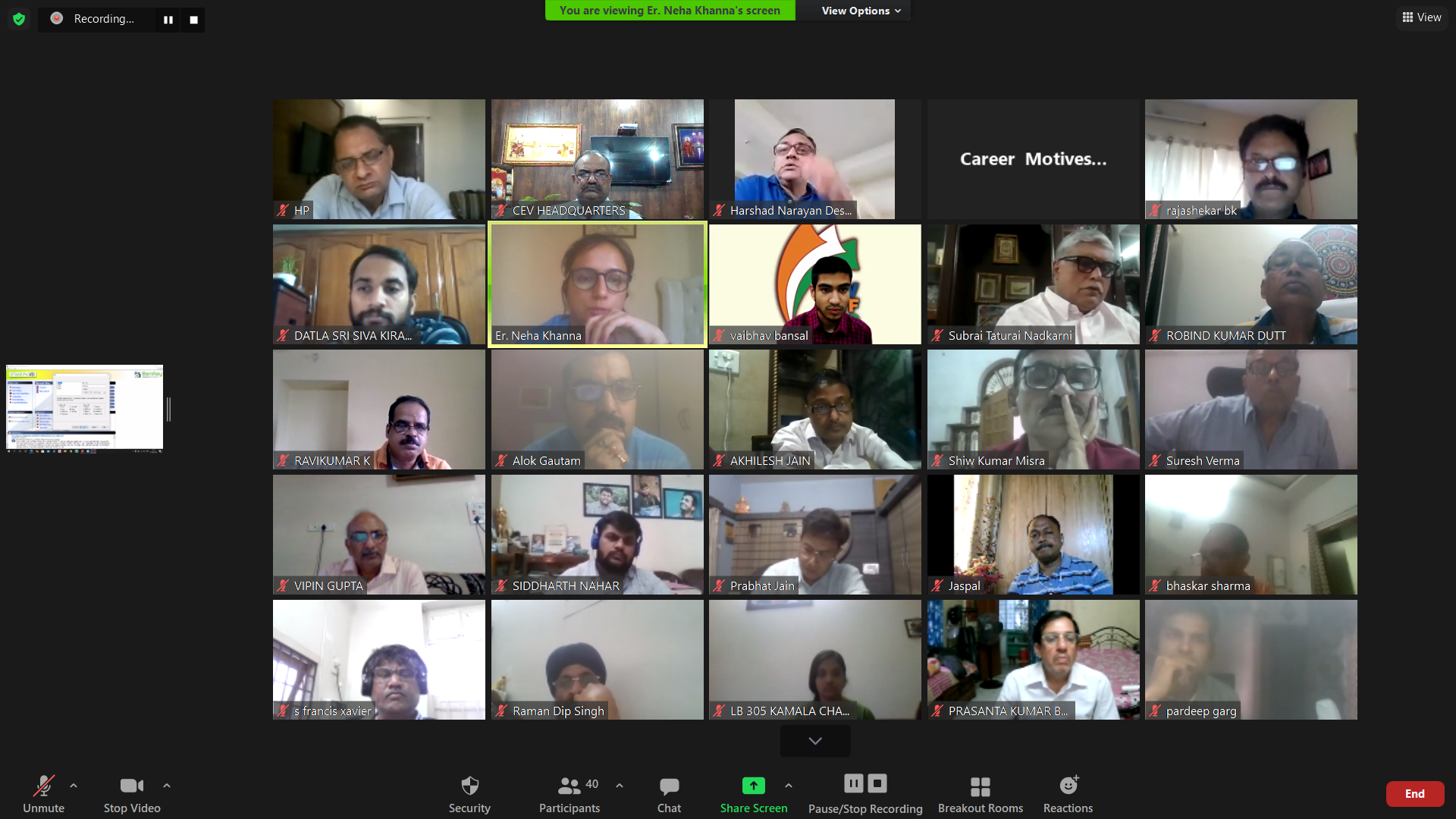 Er Sundeep Bansal, said 'These technical training programs enhance members' knowledge and get exposure from industry experts. He also said that a free copy of authenticated software is already provided to each & every candidate attending this course, which will help them to understand this course directly on their computer screen or pc.
Dr Rajwinder Singh added that

'there are a plethora of opportunities in Structural Engineering engineering, and STAAD PRO software is the future of the world'

.
Dr. Shefalika said that

'CEV Charitable Institution is committed to providing the best quality education in Engineering with the best practical knowledge and career opportunities.
She added that CEV is continuously conducting courses in the subjects of AutoCAD, Staad, Draft sight, Robot str. analysis, Revit, Etabs, Autodesk quantity takeoff, 3D Max, Solidworks, CATIA, NX CAM, DELCAM, MASTER AM, WORK NC, GD&T, INVENTOR, FUSION 360, PRIMAVERA, Six Months Course in Real Estate Valuation, Plant Machinery & Vehicles, Estimation & Costings, Gold Appraisal Training Program, Etc.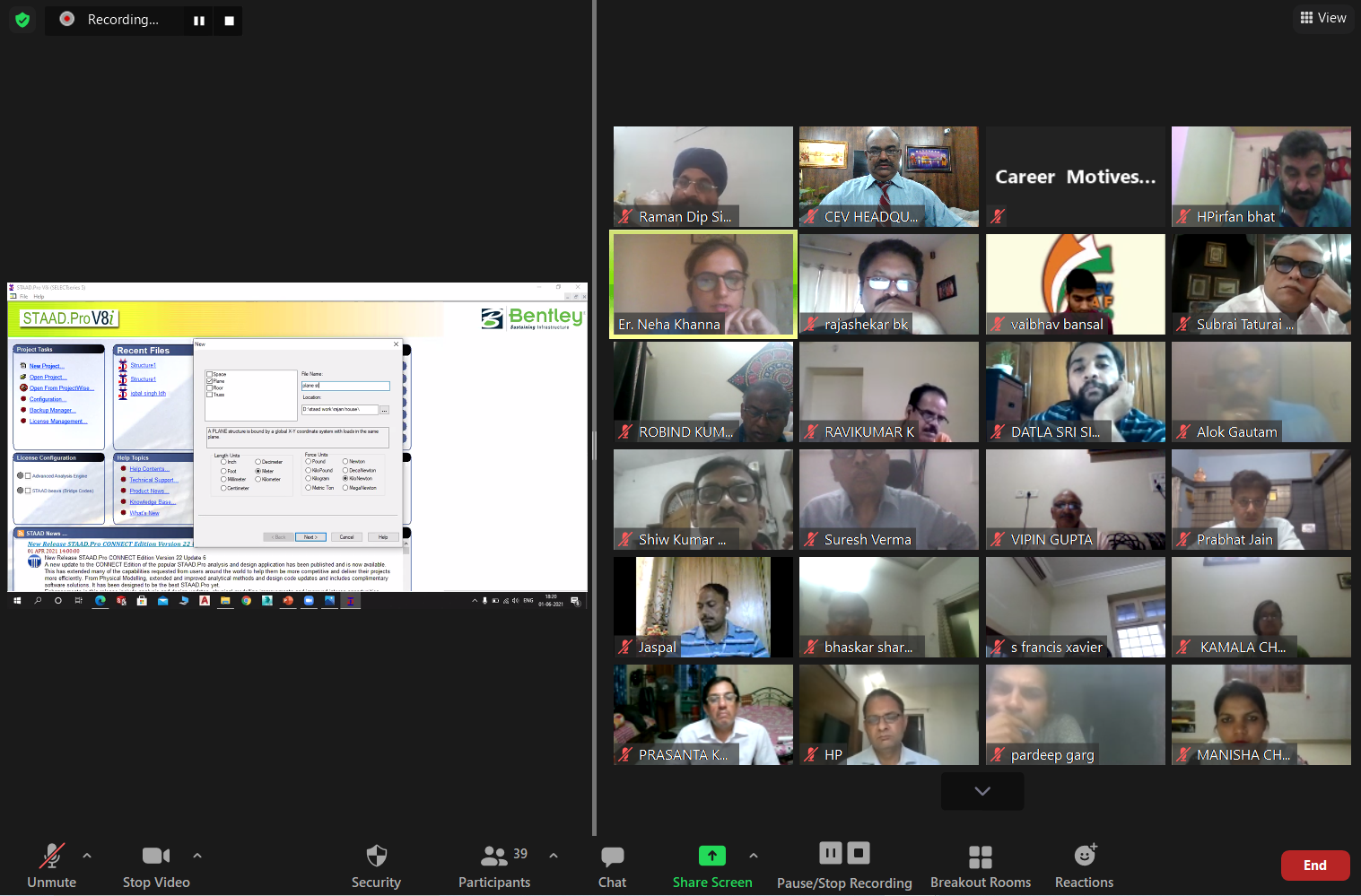 Er Rajesh Kumar added that
Certification of all the courses is being directly provided by authenticated institutions & sources, certified training support providers & agencies like CMI authorized by Bentley, Solid works, Autodesk education, Opulent Technology, Eduphere & PPDC, Under Ministry of MSME (Government of India), Mehr Chand Polytechnic College, TERii Engineering college, etc., which directly help the candidates to prove there worth in the professional competence whenever required.
Er. Sundeep Bansal expressed his gratitude for the continuous cooperation of faculties & all candidates for this training program throughout since its announcement. This course will certainly enhance the soft skills of trainees in the field of structural analysis & designing and improve their technical skills. During this training, participants will not only learn the software part but also learn the related theoretical part. The syllabus & online notes will be the added inbuilt advantages of this training program. 
All teams of CEV CI Faculty convey their best wishes to all the candidates for completing this course with high scoring grades.
Follow CEV on Social Media
FOR ALL UPDATES IN EMPANELMENTS & OTHER UPDATED
GET ALL RELATED NEWS UPDATES IMMEDIATELY BY JOINING THE SOCIAL MEDIA PLATFORMS OF CEV GROP BY CLICKING THE LINK PROVIDED AT THE BOTTOM
JOIN SOCIAL MEDIA PLATFORMS OF CEV INDIA FOR ALL UPDATES RELATED TO THE PROFESSION
Disclaimer :
We take all possible care for accurate & authentic news/empanelment/tender information, however, Users are requested to refer Original source of the Notice / Tender Document published by the Issuing Agency before taking any call regarding this tender.