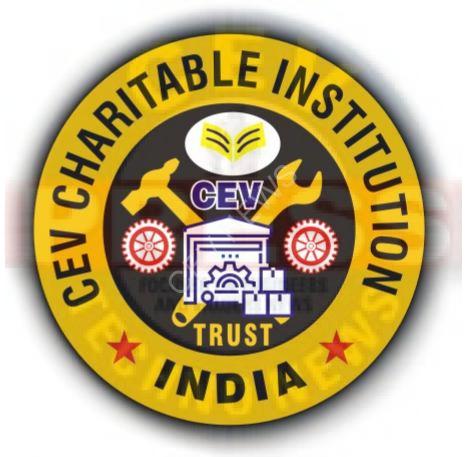 SIX MONTHS CPD COURSE IN REAL ESTATE & PLANT/MACHINERY VALUATION, CAD 2D/3D, QUANTITY SURVEYING & VALUATION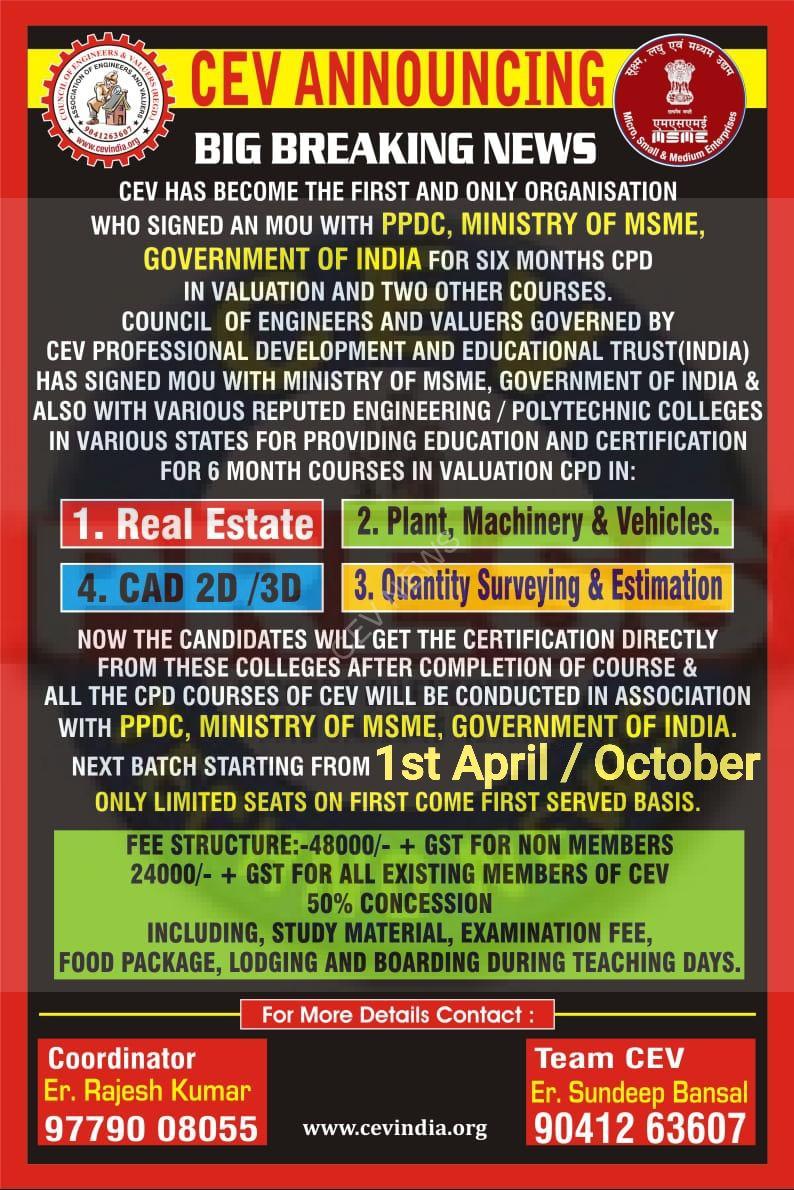 BIG BREAKING NEWS
SIX MONTHS CPD COURSE IN VALUATION
Opportunity to qualify for the requirements of Banks Empanelment wef 31st March 2019 on wards as per empanelment eligibility criteria laid down by various banks.
Today CEV is a well known brand name for it's transparency, unity, ethics & discipline for the welfare of profession under the banner of CEV Professional Development and Educational Trust. All Valuers throughout the country keen to join CEV as their preferred organisation.
The organisation working on purely charitable basis.
CEV has become the first and only organisation of Engineers & Valuers who signed an MOU with PPDC, Ministry of MSME, Government of India for six months CPD in Valuation in Real Estate / Plant & Machinery and two other courses.
Council of Engineers and Valuers governed by CEV Professional Development and Educational Trust(India) has signed MOU with TDC-PPDC, Ministry of MSME, Government of India & also with various reputed Engineering / Polytechnic Colleges in various states for providing education and certification for 6 month CPD courses in Valuation in:-
1. Real Estate
2. Plant, Machinery and Vehicles.
3. Quantity Surveying & Estimation
4. CAD 2D /3D
Council of Engineers and Valuers, in association with CEV Professional Development & Educational Trust, (CEV PED TRUST) intends to start

SIX MONTHS CPD COURSE IN VALUATION(as prescribed by IBA Circular No- OPR/CIR/2043 DT-04/02/2017)

, CAD 2D/3D & QUANTITY ESTIMATION
With revised syllabus at Jalandhar & all Chapters throughout the country exclusively for CEV members by joining hands with a reputed organisation.
Course Fee =50000 + 18% GST
Life Membership of CEV INDIA=30,000 + 18% GST
50% fee concession for all existing members of CEV (Everything Including course fee+ Study material+ class venue arrangements + Seminar fee + Examination fee + Online lectures +Mock Test + Online examinations +Any other charges
Now the candidates will get the certification directly from these colleges after completion of course & All The CPD courses of CEV will be conducted in association with TDC-PPDC, Ministry of MSME, Government of India.
Next batch starting from 1st April / 1st October. .
Only limited seats on First come first served basis.
Points to be noted:-



1. Online Weekend classes at all chapters for 100 hours contact program.
2. Study material will be provided by CEV free of cost. (Copyright Edition of specialized printed book.)
3. Subject wise Assignments.
4. One compulsory Seminar online free of cost.
5. Online examination.
6. Online results.
7. Certificate & Mark sheet will be provided after successful completion.
8. Complementary Life Membership certificate from Council of Engineers and Valuers after completing the course for non members of CEV INDIA worth 30,000/- .
All members of CEV will get 50% fee concession in actual fee fixed by the concerned authorities and will get exclusively prepared study material.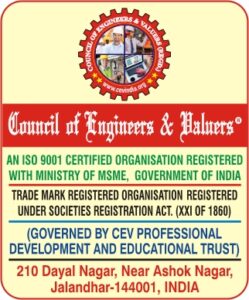 All interested members are requested to register as soon as possible to avoid last minute rush.
Only 50 seats are available in Third batch.
Academic Wing.
Council of Engineers and Valuers
Secretary General
#9041263607