ONLINE 
STAY HOME – STAY SAFE – KEEP LEARNING
IN ASSOCIATION WITH
MSME- TECHNOLOGY DEVELOPMENT CENTRE
PROCESS & PRODUCT DEVELOPMENT CENTRE
CEV the only charitable organisation of its kind for Engineers & Valuers Announcing Weekend Online 3rd Training Programme for Gold Appraisers In association with Technology Development Centre, MSME
ON 2ND & 3RD JANUARY 2021
Chance to become Government Certified Gold Valuer With Lifetime Membership of CEV INDIA in Gold Appraisers Category
Council of Engineers and Valuers in association with PPDC, Ministry of Micro, Small and Medium Enterprises (Government of India) going to conduct the ONLINE 3rd specialized course of GOLD APPRAISALS at JALANDHAR exclusively for its life members.
IT WILL BE ORGANISED IN WEEKEND IN ON

2ND & 3RD JANUARY-2021

ON ZOOM APP. MEETING ID & PASSWORD WILL BE PROVIDED TO EACH CANDIDATE AFTER SUCCESSFUL ENROLLMENT.
Certificate from TDC-PPDC, MSME, Government of India will be awarded after successfully completing the course.
Gold appraisal/Valuer training by MSME-TDC (PPDC), Ministry of MSME, Govt. of India, is schedule at CEV Headquarters JALANDHAR On
2ND & 3RD JANUARY-2021
(Depending upon conditions of Covid-19).
2  DAYS SESSION
FEE @ Rs.8500 K for all Existing Prime Members & their family members.
Fee include Course training,  Course Study Material,   Online Training Charges & Certification & Life time Membership in Gold Appraisers Category in Council of Engineers & Valuers. 
FREE LIFE TIME MEMBERSHIP WILL BE PROVIDED IN GOLD APPRAISERS CATEGORY IN COUNCIL OF ENGINEERS & VALUERS TO ALL THE CANDIDATES. (WORTH RS. 30,000/-)
On ZERO PROFIT bases.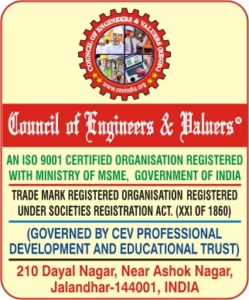 CERTIFICATES TO ALL SUCCESSFUL CANDIDATES WILL BE AWARDED DIRECTLY BY  MINISTRY OF MSME, GOVERNMENT OF INDIA.
BANK DETAILS & OTHER MODES FOR PAYMENT OF FEES 

PLEASE SEND TE SCREEN SHOT ON BELOW MENTIONED WHATS APP NUMBER AFTER PAYMENT OF FEE DONE
For more details contact:-#9041263607
Visit our official website …

www.cevindia.org
TEAM CEV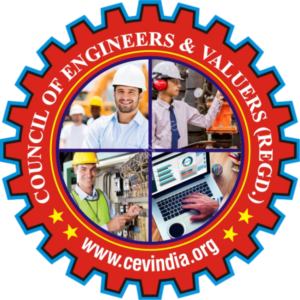 Chance to become Government Certified Gold Valuer : CEV INDIA Announcing 3rd All India Training Programme for Gold Appraisers
CEV INDIA ANNOUNCED MOST AWAITED WEEKEND ONLINE Training Programme for Gold Appraisers ON 2ND & 3RD JANUARY IN ASSOCIATION WITH PPDC-MINISTRY OF MSME