A CHARITABLE PROJECT INITIATIVE BY
CEV GROUP OF ORGANISATIONS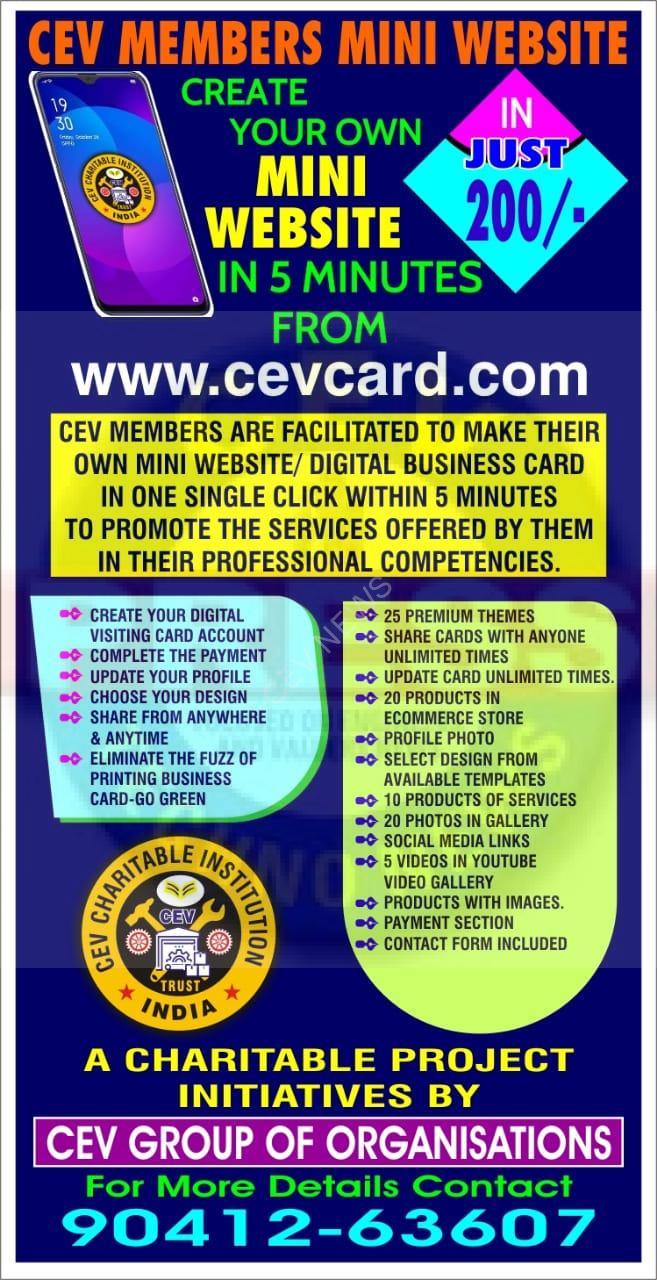 Digital Profile
Why do you spend thousands of rupees on a website when a digital profile is created for only Rs 200 / -.
The biggest advantage is that by sharing the digital profile, people will know about your business and you will see the work done by this profile and the willing people will also able to contact you in a single click, so what are you still thinking when you have the solution…
Order today and get your digital profile today and see how the digital profile works for you by clicking on the link below.
Digital Profile only 200 / – Validity for one year
Create Your Digital Identity in all over the world… MINI WEBSITE cum Digital Business Card (JPG & Clickable PDF) & Micro-Mini Website…
Generate Lead & Expand Your Profession/Business by using All Social Media Platforms…
https://www.cevcard.com
Contact : CEV INDIA- 9041263607
https://www.cevcard.com/YourCompanyName
CEV MEMBERS MINI WEBSITE
CREATE YOUR OWN MINI WEBSITE IN 5 MINUTES
CEV members are facilitated to make their own Mini Website/ Digital Business Card in one single click within 5 minutes to promote the services offered by them in their Professional competencies.
FACILITIES IN THIS DIGITAL BUSINESS CARD:-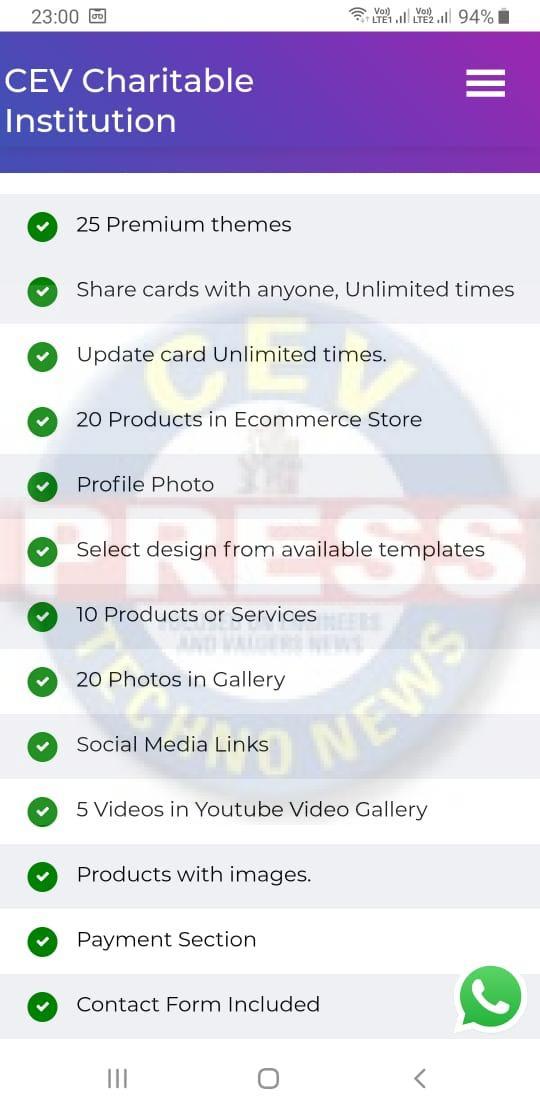 HOW IT WORKS:-

Send only this address link in all social media & share your all detail… including
Cover Image, QR Code, Your Complete Detail, Digital Contact in all social media, Intro Video, Brochure Download, Product/Services/Training Program Information, Photo Gallery, Special Offer Page, Video Gallery, Receive Payment Paytm/GooglePay/PhonePay, Bank Transfer, etc…, Inquiry Page, Review & Rating Page… Easy unlimited Editings Updatable… All rights given to you… all services for 1 Year only @ 200/- Rupees…
More Detail Contact : – 9041263607
EVEN NON MEMBERS CAN ALSO TAKE ADVANTAGE OF THIS INITITIATIVES OF CEV GROUP FOR CHARITABLE PURPOSES WITHOUT ANY ADDITIONAL COST.
DEMO OF MINI WEBSITE
????
https://cevcard.com/COUNCIL-OF-ENGINEERS-AND-VALUERS-
डिजिटल प्रोफाइल
क्यों फूकते हो हज़ारो रूपए वेबसाइट बनाकर जब डिजिटल प्रोफाइल बन जाती है केवल 200/- रूपए में सबसे बड़ा फायदा डिजिटल प्रोफाइल को शेयर करने से लोग आपके के बारे में जानेगे आपके किये गए कार्यो को देखेंगे और इच्छुक लोग सहायता भी करेंगे तो अब भी क्या सोच रहे हो जनाब जब हल है आपके पास आज ही आर्डर दे और आज ही अपनी डिजिटल प्रोफाइल प्राप्त करे और डिजिटल प्रोफाइल कैसी होती है निचे दिए लिंक पर क्लिक करके देखिये डिजिटल प्रोफाइल मात्र 200/- एक साल के लिए वैध्यता..
ELIMINATE THE COST OF PRINTING THE PAPER BUSINESS CARDS
SAVE ENVIRINMENT
SAVE PAPER
GO GREEN
SAVE THE EARTH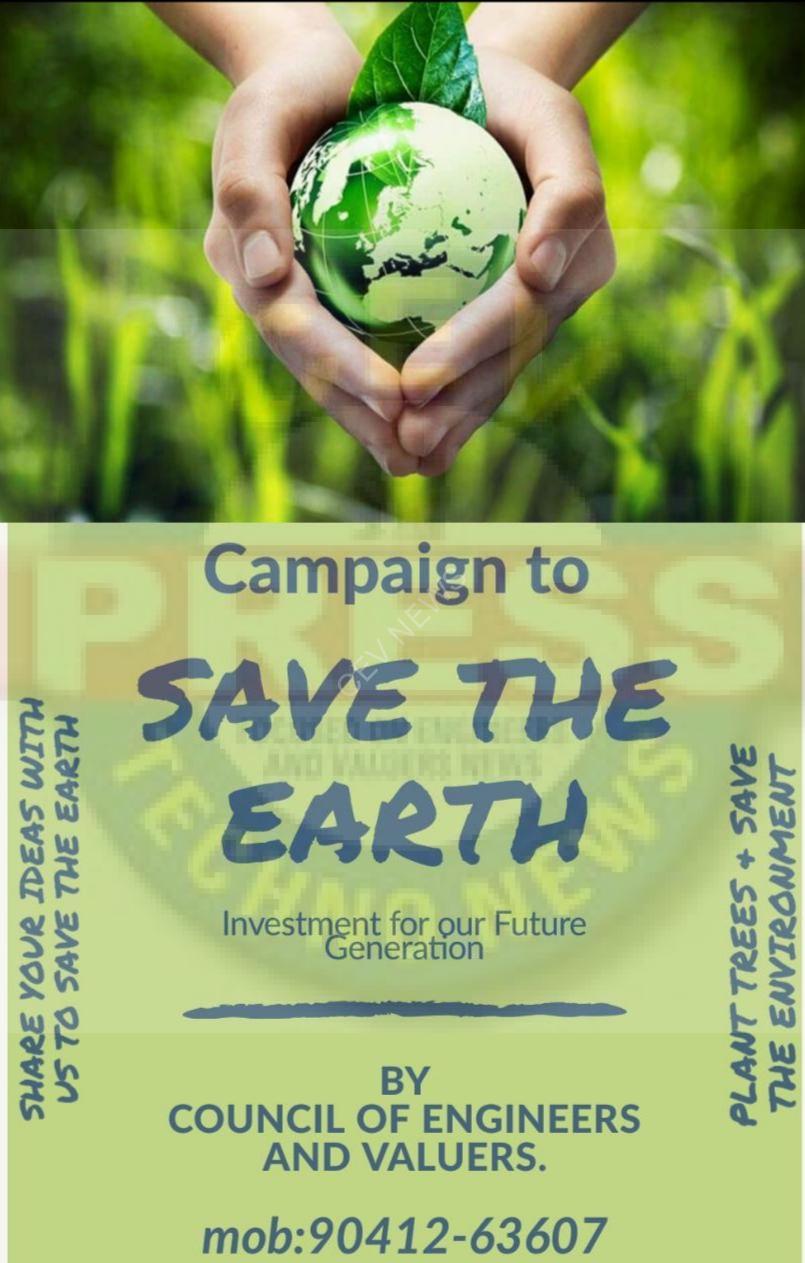 A CHARITABLE PROJECT INITIATIVE BY CEV GROUP OF ORGANISATIONS-MINI WEBSITE cum DIGITAL BUSINESS CARD