HOW TO JOIN COUNCIL OF ENGINEERS AND VALUERS….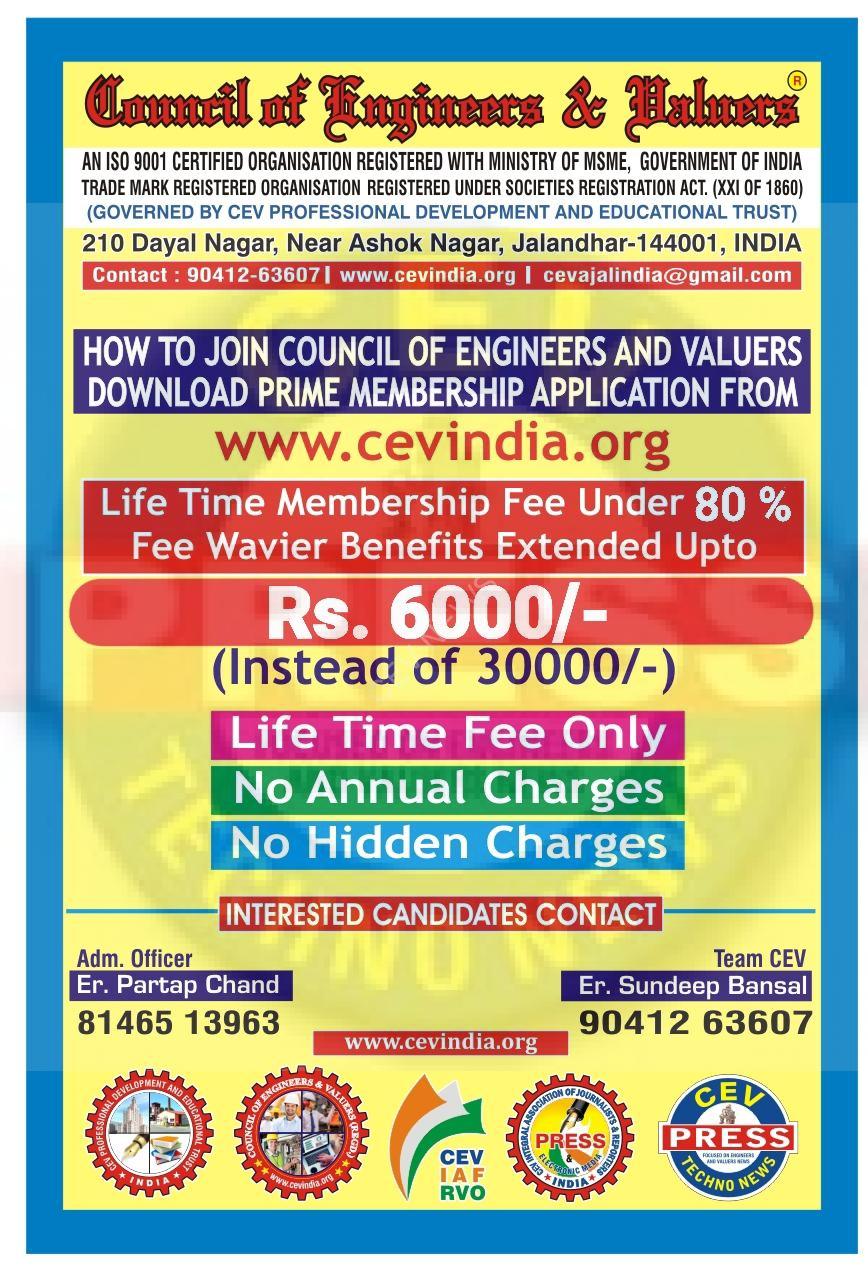 CEV GROUP OF ORGANISATIONS THE ONE STOP SOLUTION FOR ALL YOUR PROFESSIONAL NEEDS.
The Youngest, Most Dynamic, Most Popular & Trusted group of professionals working together for professional upliftment on voluntary basis.

MINIMUM ESSENTIAL QUALIFICATIONS
1

. TECHNICAL CADER (SENIOR / JUNIOR)
DEGREE OR DIPLOMA IN ANY BRANCH OF ENGINEERING/ARCHITECTURE/TOWN PLANNING.
2.GOLD APPRAISERS CADER
GOLD VALUATION CERTIFICATE FROM ANY CENTRAL/STATE GOVERNMENT INSTITUTION/ AGENCY
---
STEP-1
Download prime membership application form from official website of CEV India group:-
www.cevindia.org
STEP-2
Documents to be attached along with the APPLICATION form.



1. PAN Card (Self attested copy)
2. Aadhar Card (Self attested copy)
3. Degree / Diploma (Self attested copy)
4. Fee receipt screen shot.
STEP-3
Transfer the fee in the organization
account GIVEN BELOW through any mode
viz-GooglePay/PayTm, PhonePay/ RTGS/NEFT/Bank Transfer, etc.,.
STEP-4
Dispatch hard copies of all the documents by Registered post/Speed Post/Courier on the address given on the top of the application form.
STEP-5
After receiving the hard copies your temporary membership number will appear on Facebook page of CEV India & within 15 days it will reflect in Members Directory on official website of CEV India Group.
After successful completion of registration process, a Kit of Life Membership Certificate, Plastic Identity card, Office & Car Stickers & a copy of CEV TECHNO NEWS of will be dispatched by registered post on the address mentioned by you on the application form.
---
Total fee payable is Rs 6000/-
---
Last Date of
Diwali Festival Benefits
Life time membership fee under 80% fee wavier benefits extended up to

15th NOVEMBER is 6000/-
(instead of 30000/-)
LAST DATE FOR 80% FEE WAIVER EXTENDED DUE Diwali Festival Benefits.
BANK ACCOUNT details available on payment section of the application form.
Life time membership …… No annual charges. No hidden charges.
OTHER MODE OF PAYMENTS ARE GIVEN BELOW:-